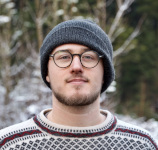 Arne Van Den Kerchove
Ph.D. Researcher Computational Neuroscience
arne[at]vandenkerchove[dot]com
arne.vandenkerchove
arne-van-den-kerchove

@arne:matrix.vandenkerchove.com
Leuven, Belgium
Experience →
Publications
A. V. D. Kerchove, Linguistic transcription of EEG responses to sequences of visual stimuli, KU Leuven, 2020.
Projects
WhistLE
Whist Logic Executor is an AI player for the popular playing card game whist. WhistLE combines a logic game model implemented in MiniZinc with search heuristics implemented in python.
SubSync
SubSync corrects out of sync subtitle files using IBM Watson speech to text and the longest common substring algorithm.
Wina.be
A website for student organisation Wina with membership and event management systems, built with Django
DriesBeheydt.be
A website for pianist Dries Beheydt to promote his music, built with Django.
Interests
Machine Learning
Neuroscience
FOSS
Red Cross
Cybersecurity
← About me
Education
Ph.D. in Biomedical Sciences
KU Leuven, ongoing
Ph.D. in Engineering Sciences
University of Lille, ongoing

KU Leuven & University of Lille Global Ph.D. Partnerships 2020 Grant

Thesis: EEG-based Visual Brain-Computer Interface for Gaze-free Communication
M.Sc. in Engineering Sciences: Computer Science, Cum laude
KU Leuven, 2020

Option Artificial Intelligence. Thesis: Transcription of multiple ERP components from EEG recordings using spatio-temporal beamforming (16/20)
B.Sc. in Informatics
KU Leuven, 2017

Minor in natural sciences. Thesis: Drone simulator and stereoscopic object detection autopilot (19/20)
Professional experience
Teaching Assistant Fundamentals of Computer Science
KU Leuven, 2020


Teaching programming and algorithmic reasoning to first year engineering students.
Python Developer
Mindspeller, 2019


Python flask developer in a spin-off of the KU Leuven Computational Neuroscience lab that provides marketing services based on neuroscientifically validated association studies.
Database Technician
Pharmacists Forum of Brabant, 2015


Database refactoring and migration.
Freelance Full-stack Web Developer
Self employed, 2014-ongoing


I build and design websites for small start-ups and organisations with Drupal CMS or Django, combined with hosting on own server infrastructure.
Front-end Web Developer
GBITs Web Development, 2014


HTML/CSS template editing for a small web development company.
Volunteering Experience
Red Cross, Event Paramedic

Helping people in need.
Red Cross Youth Retie-Dessel, Deputy President and First Aid Instructor

Youth leader in an openly accessible youth movement and first aid instructor for children of age 6 to 16.
KU Leuven, PAL Tutor Principles of Computer Programming

Organizing and teaching Peer Assisted Learning sessions in Python programming to first year Informatics students.
Scientica Leuven vzw, Board Secretary

Day-to-day management of an overarching student organization at the Faculty of Science of KU Leuven. Responsible for internal quality assurance and documentation.
Wina Leuven vzw, Board Member

Day-to-day management of the student organisation for Physics, Mathematics and Informatics at KU Leuven. Organizing events and parties.
Scientica Leuven vzw & Wina Leuven vzw, Webmaster

Team leader of the technical support teams and of multiple student organizations and sysadmin of a small scale distributed Linux server infrastructure. Developing and maintaining the websites and online course service platform.
Students for Climate Leuven

Organizing and mobilizing for a greener future.